By
VT Techlogy
Cáp RF Feeder 7/8", 1/2" & 3/8"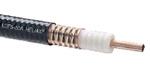 Product description:

Cáp RF Feeder 7/8", 1/2" & 3/8" .

...
Chủng loại: LDF4-50A, HELIAX® Low Density Foam Coaxial Cable, corrugated copper, 1/2 in, black PE jacket. Excellent Weather Resistance
Triple-bonded construction with fi lled center using patented microcell foaming technology.
Field Proven
Used by major operators worldwide for close to a decade.

Investment Protection
Theft resistant due to low copper content
Ease of Handling
Lightweight, flexible and holds its form to any application, speeding up the installation process.
Energy Efficient
Compared with traditional all-copper cables, RF feeder is more energy efficient, durable, and has greater flexibility. It requires less electric power and fuel to manufacture and transport. RF feeder also conforms to the European Union's ROHS (Restriction of Hazardous Substances) directive.