By
Vien Tin Technology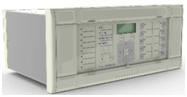 The new P847 Phasor Measurement Unit forms part of Alstom Grid's system monitoring and control. The devices is used to measure power system data in real time and report to the PDC (Phasor Data Concentrator) for visualisation, data storage and most importantly for running a variety of 'on line' and 'off line' applications in systems analysis and control. The ultimate goal is to run the system economically and preserve system stability following major disturbances. The list of applications based on P847 PMU is long. Listed here are just a few of the possible applications of the P847 by system operators:
Monitoring angular instability
Monitoring frequency/rate of change of frequency
Monitoring for impending voltage instability
State estimation (based on time-synchronised, measured data)
Detecting inter-area oscillations and system dumping factors
Islanding
System recording/analysis
System restoration
Adaptive protection
The P847 is GPS synchronised externally through a fibre-optic input (1PPS) and connected to an accurate IRIG-B source (i.e. P594). The PMU function exceeds the requirements of IEEE C37.118 Level 1 with enhanced performance under off-nominal and dynamic system conditions due to an advanced frequency tracking algorithm. The transmitted time- tagged signals are phase currents, voltages, their derivatives, frequency, rate of change of frequency and 8 digital signals all at speeds up to 50/60 frames per second.
P847 also provides a wide range of protection and recording functions.
Key Benefits
Real-time monitoring and control of the power system
Multi-function system protection in one device
Flexible communications