By Vien Tin Technology

N male Connector, N female connector cho cáp 1/2", 3/8", 7/8", 5D-FB, 8D-FB, 10D-FB, Rg-58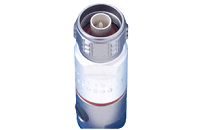 Product description:

High performance coaxial cable connectors are designed specifically to provide the highest quality connector-cable interface while simplifying and speeding up the attachment of connectors to coaxial cables. Connectors are fully tested for mechanical and electrical compliance specifications. They are available in all popular cable sizes in a variety of mating interfaces. The N connector is one of the most common RF connector types. N type connectors will be delivered with a non-slotted outer conductor contact sleeve and a special gasket. Due to a special design of the coupling nut (without spring ring) N connectors can be tightened with increased torque. This increases the contact pressure..

...